Upcoming live performancesについて
I'm ("hype"-adjective) to announce two upcoming live performances, all to take place in a near future setting (aka the near future):
Coming up first is the debut live performance of my Death Industrial/Ambient Industrial project Death Librarian. After releasing tracks on compilations last year and the debut album Ghost Elegies at the beginning of the year, I'm excited to bring this project to live audiences for the first time on October 21st in Hackney, East London.
NOISE=NOISE x Telegrafia \0005 at Telegrafia, Mare Street. October 21st 2023. Doors 7:30 with >Σ, Timothy Tate, Death Librarian, Crow, Tyryyyn
An interesting line-up on the noisy, experimental side. Tickets are available via the Telegrafia Shop: https://telegrafia.uk/shop/ For those interested in synth DIY, there will be a workshop to build a small DIY sampler on in the afternoon of the 21st. Check the telegrafia link for tickets/more. NNNN fb-event.
Then…
On December 10th I'll be performing the first Tomoroh Hidari gig in front of an actual audience since 2013. Yes, there's been live streams during lockdown when my 小さな夢​達 album was released. But other than that, I haven't performed a Tomoroh Hidari gig since September 2013. So it might be about time.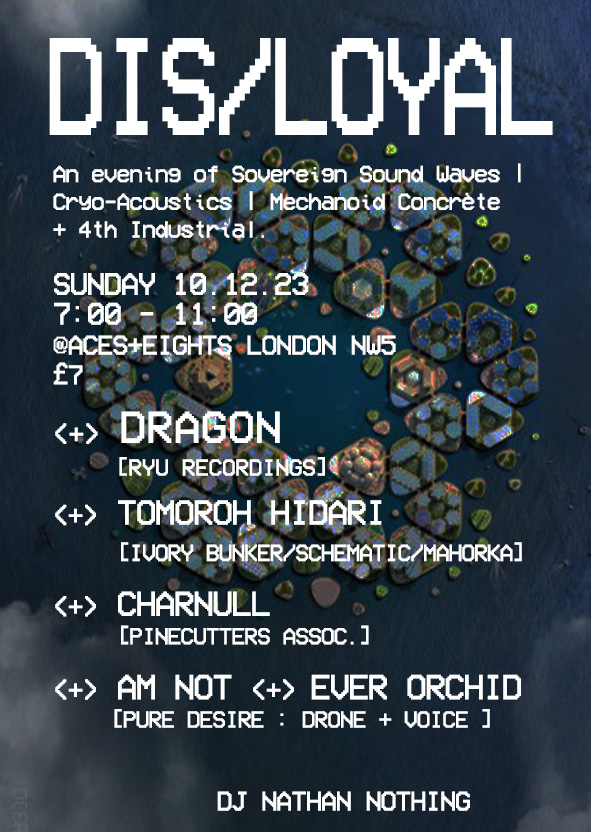 DIS/LOYAL Sunday 10th December 2023 at Aces*Eights, Tufnell Park, London. With Dragon, Tomoroh Hidari, Charnull, Am Not & Ever Orchid
Once again, an ace looking line up, so do make sure to come by and enjoy and evening of live electronic musicks. Ticket Link (<<– updated!!). fb-event
I've been a lot more comfortable in the studio (bunker) for the last few years, but happy to be giving playing live another try. If those gigs go reasonably well I might be up for more… so stay tuned.
And if you are putting on shows and are interested in having me, reach out via hidari [@] gmx [.] net. Ta!